Brownsville Borough Businesses Celebrate Success
July 13th, 2020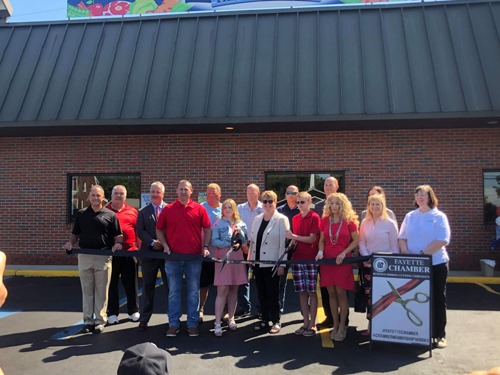 Ribbons, flowers, and brooms have all helped revitalize Brownsville Borough, Fayette County. This success was celebrated June 12 with 11 back-to-back ribbon cuttings.

Carl DellaPenna, president of the Brownsville Greater Area Chamber of Commerce,said a number of businesses "popped up quickly and asked about ribbon cuttings." It seemed like a logical idea to make it one big event for the businesses and one non-profit that had opened in the year before and during the pandemic.

There isn't one answer as to why the borough had so many businesses open in such a small stretch of time, but DellaPenna said the renovation of downtown spaces into the income-qualified Iron Bridge Crossings apartment building, along with the busy Brownsville Family Pharmacy, which is housed in renovated buildings, helped create a "snowball" effect.

Additionally, the county's redevelopment authority has been buying and flipping buildings and high school students created a downtown amphitheater a few years ago.

All of this "has encouraged other people to come to town."

The lone non-profit in the ribbon cutting event was the Perennial Project, a community group with a mission to spruce up the borough with plantings and cleanups.

The seeds of the project were sown by Joe Barantovich, who has ties with the community, and long-time resident and horticulturist Laura Patterson. With Barantovich's enthusiasm and leadership, the group's cleanup and planting last year drew 100 volunteers, according to printed reports, to pick up trash, trim trees, and dress up vacant lots with flowers.
This year the chamber bought some equipment for the project and had another good cleanup, although the work was less arduous. DellaPenna said after last year's event spurred businesses and others to maintain properties and cleanliness.

He said that Brownsville may not have new buildings but keeping things clean and adding a little paint has gone a long way.

For more about Brownsville, visit brownsvilleborough.com.