Former Susquehanna County Railyard to Be Transformed into Community Park
August 24th, 2017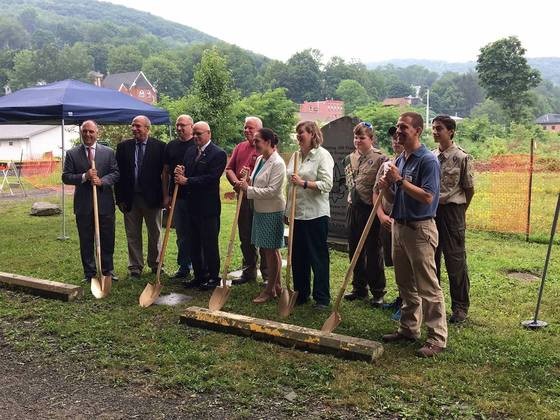 State investments will assist with the remediation and redevelopment of a portion of the former Erie Railyard, in Susquehanna Depot Borough, Susquehanna County, into a community park.
"This project is meant to serve a community with an old industrial site with potential to be useful to residents once it is cleaned up," said Mike Bedrin, Director of the Department of Environmental Protection (DEP) Northeast Regional Office. "It is a great example of state agencies working with local officials to provide a recreational benefit to residents."
The former railyard, which sits on the banks of the Susquehanna River in the borough, will be redeveloped into a 14-acre park to be known as the Ira Reynolds Riverfront Park.
The new park will feature a pavilion, pedestrian trails, lighting, and access to the river.
"We believe all Pennsylvanians should have access to safe, clean, and ready to use parks -- and our collaborative efforts on this project will help to do just that at this site," said Department of Conservation and Natural Resources (DCNR) Deputy Secretary Lauren Imgrund.
"Pennsylvania has nearly 6,000 local parks. They are our go-to places for close-to-home recreation and they are a major priority in Pennsylvania's long-range recreation plan."
The Erie Railyard was abandoned in the mid-1970s after more than a century of operating in Susquehanna Depot. In the mid-1990s, wide-spread heavy metals contamination, such as lead and arsenic, related to railroad activities, was discovered in soil at the 17-acre site.
DEP is implementing an interim clean-up response at the former railyard under the Hazardous Sites Clean-up Act (HSCA). The plan includes excavation of contaminated soil in areas where the potential for public exposure is high, clearing and grubbing of trees and shrubs, re-grading
the land, installing a soil cap over the contaminated area, and seeding. The project's cleanup is anticipated to cost $1.9 million.
In December 2016, DCNR awarded a $250,000 Community Conservation Partnerships Program Grant to the borough for construction of the park. Work on the park is scheduled to begin soon.