Emporium Borough's Sylvania Corporation Designated with Historical Marker
September 7th, 2021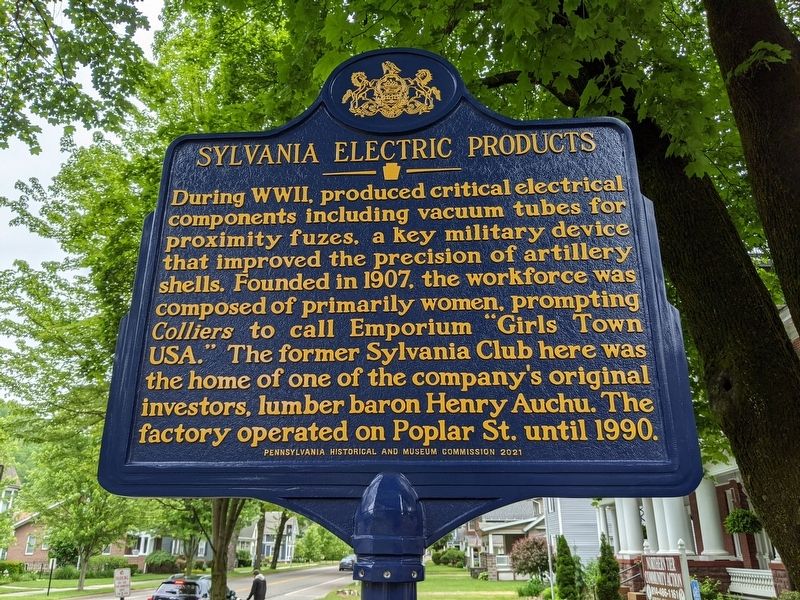 At the turn of the last century, Emporium Borough, Cameron County, became home to a factory that had global and military significance. All of this and more is embodied in the Sylvania Electric Products historic marker, dedicated by the PA Historical Museum Commission. The event was hosted by the Cameron County Historical Center.

The blue and gold plaque was installed through the Historical Marker Program on the lawn of the former Sylvania Club on West Fourth Street in Emporium, which was the home of one of the original lumber baron Sylvania investors.

Emporium Borough Manager Don "Stretch" Reed, who was one of the last employees of the Sylvania Company, then known as Philips ECG, said that the marker honors the historical significance of the company and its many contributions it made to keep the borough the thriving community it is today.

The Start
The story of Sylvania and Emporium began in 1907 when a factory for the Novelty Incandescent Lamp Co. was constructed in the borough. Between 1910 and 1921, the Novelty brand was owned by General Motors and then General Electric, which closed Novelty.

Then, local entrepreneurs bought Novelty's assets, changed its name, and made the Emporium factory its general offices.

Looking to diversify and cash in on the radio craze, they transitioned into the tube business, leading to the creation of Sylvania Products Co. in 1924. By 1928, the company sponsored a national radio program featuring the Sylvania Foresters, an orchestra composed entirely of Emporium factory employees.

In 1929, a new factory was built in Emporium followed by a merger in 1931.

Wartime Sylvania
A few months after the attack on Pearl Harbor, the company switched almost completely to war production.

At the same time, young women from surrounding farms and small towns poured into Emporium to work in the factory, and the town was noted in a 1942 magazine article as the nation's first "girls town."

Post-war
After World War II, the Emporium plant began producing television picture tubes. In 1954 there were more than 50 Sylvania facilities in 20 states. A merger with General Telephone in 1959 transitioned the company's focus from consumer electronics to precision materials.
The Emporium factory operated on Poplar Street until 1990.

For more about Emporium and its history, visit www.emporiumborough.org.