Barry Isset & Associates Answered Call to Beautify Rooftop Deck
August 19th, 2019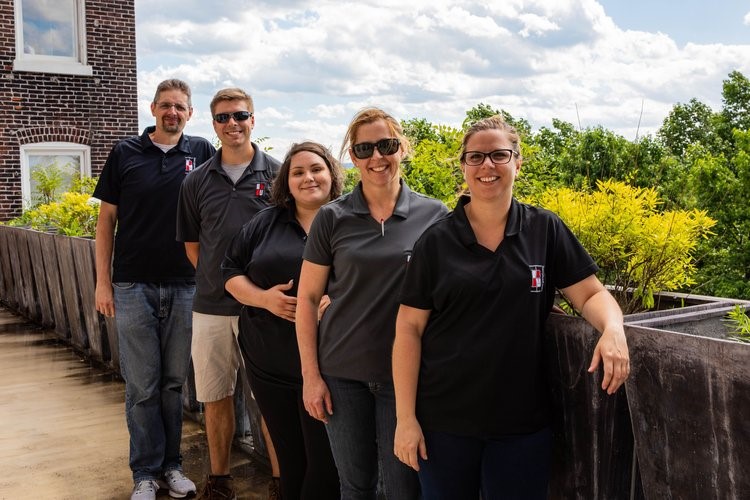 The TriCounty Area Chamber of Commerce, of which Barry Isett & Associates is a member, serves businesses and communities in Montgomery, Chester, and Berks counties while creating valuable connections.The chamber's office is in the historic Security Trust Building in the heart Pottstown Borough, Montgomery Counrty.

The chamber put out a call to their membership in May, seeking support in the form of volunteerism and the donation of plants to beautify their rooftop deck area. This unique space, accessible only from inside the chamber's office, offers sunny westward views and overlooks the Smith Family Plaza. The rooftop deck features 22 waist-high planters that needed some attention.

With the help and expertise of Christine Mildner and Ashley Eichlin, a plan was designed and a plant list was prepared (with second and tertiary suggestions, based upon availability). Marketing Director Francee Fuller connected with a local Allentown grower and Erin Burke secured additional landscaping materials from a Pottstown area nursery.

After a week of intense thunderstorms, the project date arrived, and the group had a reprieve with beautiful clear skies. The team got down to work — hauling flats of plants; power washing the deck surface (the coveted task of the day); weeding; and getting the new flowers established in the planters. The rooftop deck planting's success is due to the team efforts of Erin Burke, Anna Hayford, Candace Hickey, Jennifer Isett, Karl Leitner, Kelly Raines, Carmelina Sanchez and Paul Schmoll.

The next time you are at the TriCounty Area Chamber, make sure you check out the Barry Isett & Associates Rooftop Deck.